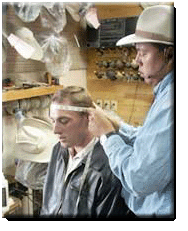 We make each hat to our customer's head circumference and shape. We send our traveling conformer to get these dimensions. This helps get the best fit for your hat.
When choosing a custom made hat, there are several things to consider so that your new hat will look as good ON you as it looks TO you.
Choosing the right hat style for your face shape is very important. Most hat styles tend to look best over a particular shape of face. Of course, some modifications can be made, such as the height of the crown or the width of the brim, in order to provide a better custom fit. The two basic face shapes that you should classify yourself among are regular oval and long oval.
Using the photo on the right and information below you can better understand how you will be properly measured for your custom hat. By doing a comparison among styles, proportions and the shape of your face, you'll be much happier in the long run because your hat will fit better and help you to look your best while wearing it.
Our conformer will place a cloth or soft plastic measuring tape along the line where the bottom of the hat's sweatband will sit on your head. Note in the photo that it is usually more of an angle than you'd normally expect. Typically, the hat's sweatband will sit about 1/4″ above the top of your ear. Pull the tape somewhat taught, then allow it to relax about 1/8″ to 1/4″. Normally, relax the tape 1/8″ for a snug fit and up to 1/4″ for a less tight fit. Consider the conditions under which your hat will be worn, if you will be riding while wearing your hat you will need a slightly more snug fit, or you may be more sensitive to pressure around your head and will need a more relaxed fit.
Once you are comfortable with your head measurement, we will make a note of the exact measurement and use the conversion box below to choose your hat size.
Hat size conversion chart
Head measurement (inches)
Head measurement
(centimeters)
Hat size
21
53
6 3/4
21 1/2
54
6 7/8
22
56
7
22 1/2
57
7 1/8
23
58
7 1/4
23 1/2
60
7 3/8
24
61
7 1/2
24 1/2
62
7 5/8
25
63
7 3/4
25 1/2
65
7 7/8
26
66
8